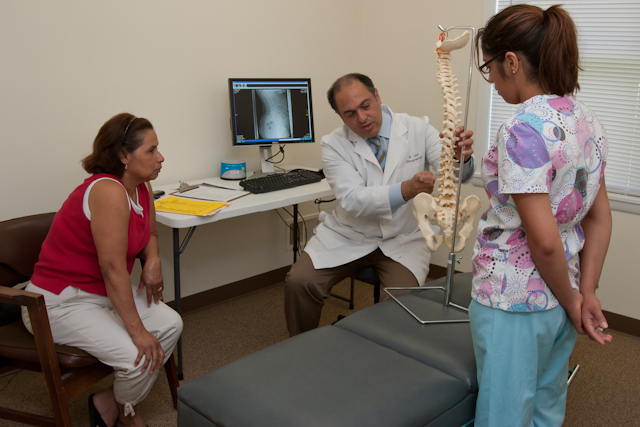 Since 1997, Dr. Levieddin (Levi) and his devoted staff, have been treating and helping people in the Montgomery, Howard and Prince George's counties as well as the Washington DC and northern Virginia areas. Dr. Levi and his loyal staff are committed to quality, caring and outstanding chiropractic care in clean, professional offices. Patients seeking care in our offices are assured they will receive the finest quality of care using Chiropractic manipulation, physiotherapy modalities, and proper nutrition advice all without the use of drugs and/or surgery.  Dr. Levi prides himself in personally supervising all phases of treatment. Our goals are to restore normal function to the joints, nerves and muscles as well as to restore, tone, and strengthen weak deconditioned areas by using targeted exercises and therapies to maximize stability and prevent reoccurrence. 
Dr. Levi is hands on and supervises, personally, every phase of the patient's treatment with the utmost care and discretion. Some of our goals in Levi Chiropractic include the restoration of normal function to the joints, nerves and muscles, as well as forming muscle tone/strength to the weakened areas of injury. We effectively perform these treatments by using targeted exercises & therapies to maximize stability and to prevent recurring injuries.
Ever since Dr. Levieddin (Levi) was a young boy, he had a passion for helping others. He was reared in a family with four other siblings, and being the youngest of five, was taught at a young age to be considerate, thoughtful, loving and compassionate towards others. He made it a point to lend a helping hand and be there for anyone in need. He was instilled with the nobleness of this characteristic and kept it with him until adulthood.  With that in mind, he admired and looked up to mentors such as uncles who were physicians as well as a cousin practicing pediatrics.
While in college, as an undergraduate, he was enlightened by a classmate about the chiropractic profession. While working at a restaurant, to make ends meet, he met a compassionate and caring chiropractor, Dr. David Lipman, who took him under his wings, and taught him about the body and how it heals itself through "innate intelligence" which is the body's ability to heal and improve. He discussed how the job of a chiropractor is to facilitate and enhance such ability through natural means, nutrition, physiotherapy, exercises, stretching and chiropractic manipulation.
After completing his undergraduate studies, Dr. Levi began his chiropractic education in January of 1988 at the Southern California University of Health Sciences, (SCU) formally known as the Los Angeles College of Chiropractic.  After successfully completing the program at SCU, he attained a Doctor of Chiropractic degree (DC), in April of 1991. After successfully taking the licensing examination in California, he was licensed and started working in the summer of 1991, as a chiropractor in a multi-disciplinary clinic, treating musculoskeletal conditions. After some time, working in two multidisciplinary health care settings, he became involved in his own practice full time in Los Angeles.
Dr. Levi is a member, in good standing, of the Maryland and Pennsylvania Chiropractic Associations,
Dr. Levi is a supervising Doctor of Chiropractic, with physical therapy privileges.